CONTOURING AND STROBING ON AN INVERTED TRIANGLE FACE, IN 4 STEPS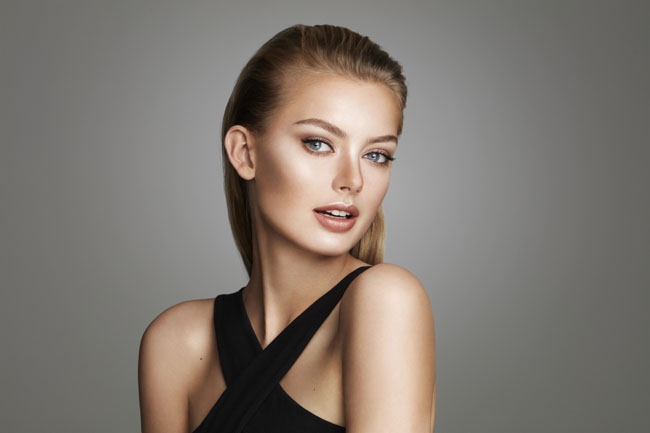 CONTOURING is the make-up technique used to sculpt face features and to give the right balance to volumes, thanks to a game of light and shades.                                                                                                                                   STROBING is the make-up technique that emphasizes the high points of the face by enhancing them with light reflections.
Pupa creates #READY4SELFIE , a strobing & contouring palette that comes with 4 compact powders to sculpt and illuminate the face. For a make-up that is ready for any kind of selfie!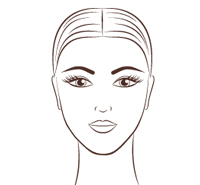 Does your face have an inverted triangle shape? This type of face has oblong line and it develops vertically. Forehead is big, the jaw is not prominent and chin is pointed.
How can a triangle shaped face be corrected and emphasized? For this type of face the contouring and strobing can harmonize the imbalance of proportion between forehead and chin.
STEP 1. Use shade number 4 below the cheekbones with a horizontal motion without going too close to the center of the face. Create shading on the upper area of the forehead and on the tip of your chin. If necessary, outline the sides of nose, blending towards the eyebrows, to make it look thinner.
STEP 2. Use nuance number 3 to soften the shading and to make it look warmer, by blending it around the contouring made with shade number 4.
STEP 3. Brighten up the central parts of the face and the sides of the jaw to make the face look wider with shade number 2.
STEP 4. After contouring, apply shade number 1 of the highlighter on the high points of the face – cheeks, bridge of nose, areas above and under the eyebrow arch, Cupid's bow, chin.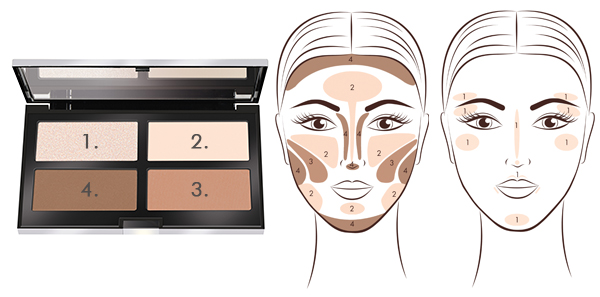 Remember to always use the Slanted Blusher Brush of the Professional Brushes line of products on forehead, cheekbones, cheeks and chin. Use the Blending Brush of the Professional Brushes line of products on bridge and sides of nose, on the areas above and under the eyebrow arch and along Cupid's bow.
Is your face oval? Find out how to correct it and emphasize it with contouring & strobing techniques.
1. Follow Pupa's tips on http://www.pupa.it/eng/
2. Create your Contouring&Strobing look with the powder palette, by Pupa!
3. Take a picture!
4. Share it on your favorite social networks!
5. Post your picture using hashtag #READY4SELFIE
Filed in
eng
,
Make Up Secrets
Tagged with
,
,
,
,
,
Posted by
PupaStaff
Posted on
3 marzo 2017