AUTUMN RESTYLING AND THE NEW COLLECTION PRIVÉE BY PUPA MILANO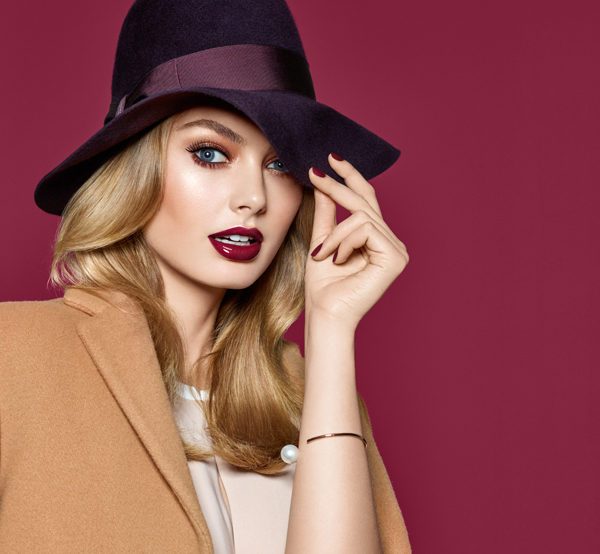 Each of us has our own style and our own preferences when it comes to clothes, and our wardrobe is a reflexion of our personality. But the beauty of fashion is that, season after season, it lets us fall in love with a trend and make it our own, playing with it and interpreting different characters and styles.
A need to change, a need to feel more sophisticated
After a rather wild summer of "forever on vacation" style, with sun-dried hair and natural make-up, the autumn comes with a need to change, to go for a neater look and a new, sophisticated image, to show off elegant, refined and understated pieces. We loved the bright colours of the summer, but now we want the total opposite: warm, rich colours, deep browns and intense shades. We want to take on a leading role, to see ourselves as beautiful, neat and refined like a true star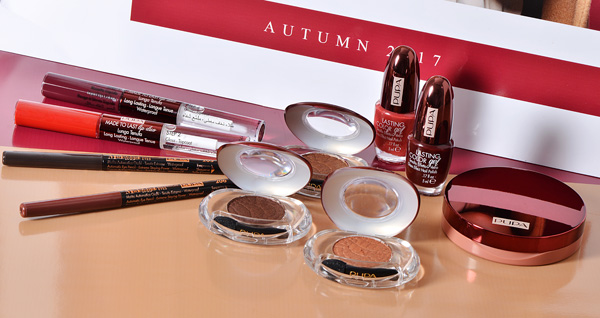 New season, new look
No sooner have we put our bikinis and sun hats back in the wardrobe than we are already entranced by the autumnal window displays. We fall in love with enveloping hoods and capes, and wide-brimmed hats, we stroke velvet trousers and soft wool sweaters, transfixed at the jewellery and already imagining the next outfits that we can show off. It is a natural cycle, we cannot wait for one season and, once it is over, we are ready to enjoy all the beauty of the next one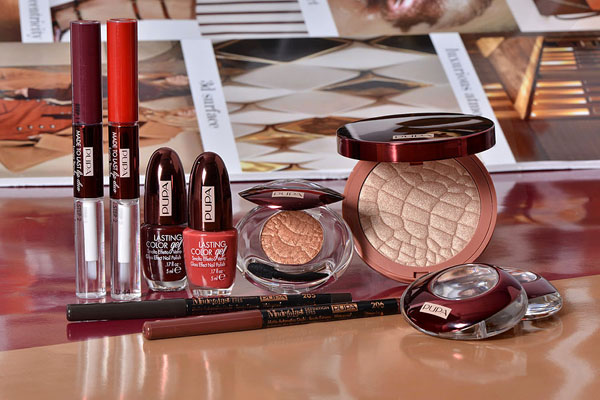 Collection Privée by Pupa Milano
All the glamour of the autumn is enclosed in the new make-up collection by Pupa with a name that says it all: Collection Privée. A limited edition designed for the woman who sees herself as a contemporary diva with a modern style, enhanced by a vintage twist. A make-up collection inspired by a sophisticated, mature and luxury-loving woman, who is confident and aware of her exclusivity. A triumph of warm colours: chestnuts are intermixed with shades of honey, camel tones and intense burgundy. The icing on the cake is the crocodile print embossed on the pressed powders. Let's look in detail at the products that make up the Pupa Collection Privée.
THE PRODUCTS: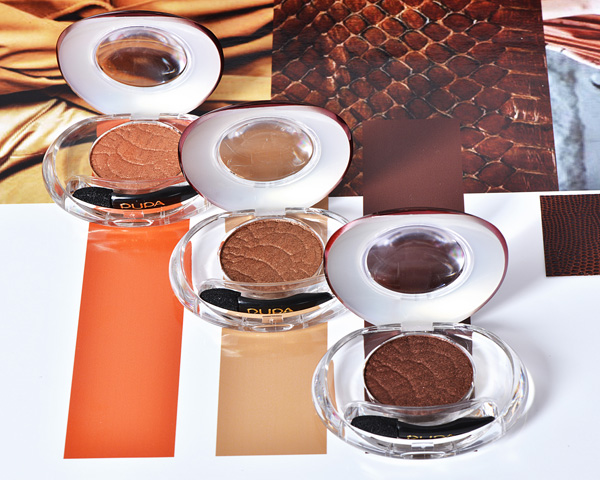 COLLECTION PRIVEE EYESHADOW has a pure colour for eyes that radiate new multifaceted light with a 3D effect. It has a firm and creamy texture and blends onto the eyelid giving total colour with a pure pearl effect. Its coverage is extreme and the finish is super-metallic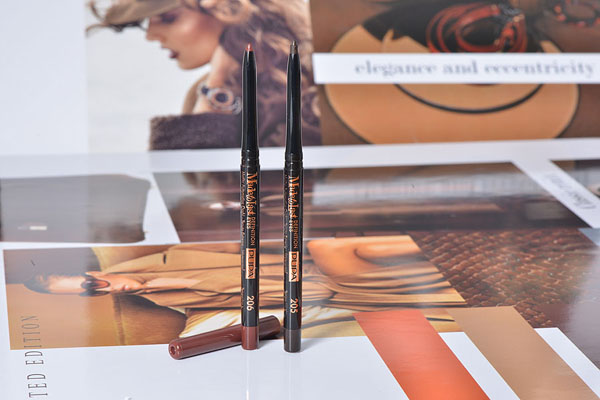 COLLECTION PRIVEE MADE TO LAST DEFINITION EYES is an extremely long-lasting automatic waterproof eye pencil with a creamy texture and a precise line. It glides on smoothly and is easy to blend, adhering perfectly to the eyelid for total comfort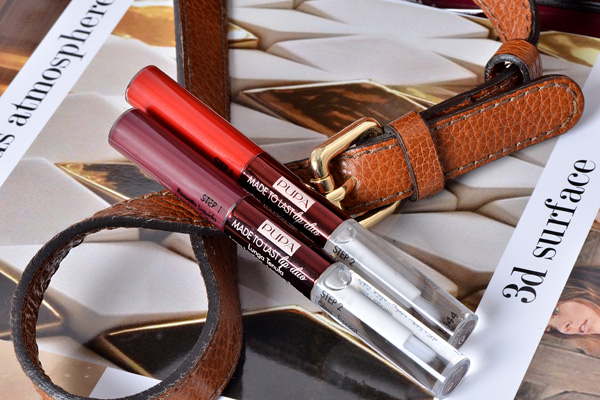 COLLECTION PRIVEE MADE TO LAST LIP DUO is a "smart" 2-in-1 product: at one end is a liquid lipstick with a formula enriched by high-performing polymers that create perfect adherence and solid colour. The texture is a lightweight and quick-drying film. It instantly releases a full colour with extreme durability. At the other end is the top coat with a formula enriched by a mix of silicones and waxes which ensure extreme comfort and an ultra-shiny finish. It gives instant comfort and creates a lightweight and non-sticky film, enhancing and brightening the base colour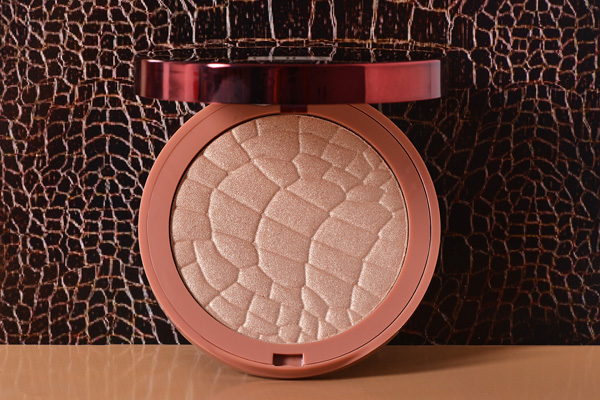 COLLECTION PRIVEE HIGHLIGHTER is a light-infusing face highlighter. When applied on the raised areas of the face, it highlights the skin with a "pure gold" glow and creates desirable light effects. The lightweight and silky texture blends easily with the complexion, giving it a new three-dimensionality.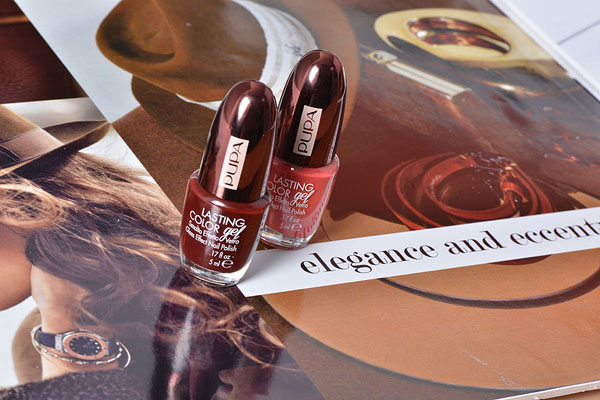 COLLECTION PRIVEE LASTING COLOR GEL two new glass-effect nail polishes in two wonderful shades, Opulent Red and Exclusive Burgundy, to match the lipstick shades and to complete your look perfectly.
Filed in
4Season in Pupa
Tagged with
,
,
,
Posted by
PupaStaff
Posted on
4 ottobre 2017