"Face" Beauty Kit: 3 essential products for the perfect make-up base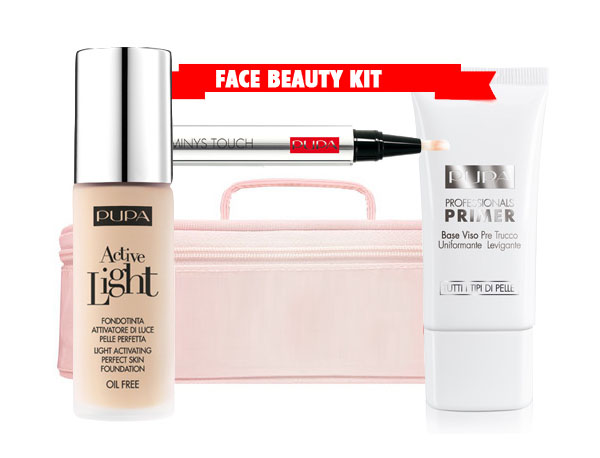 Make-up is like a work of art, the face becomes a canvas and make-up products become brushes to dip into the color palette to emphasize every woman's natural beauty. This is the basic principle of beauty, make-up is not meant to be a mask, but an essential instrument women can use to correct  blemishes, get that glow back, smoothen the skin to get a flawless base for either a nude make-up look or a super sophisticated maquillage.
This is the reason why it is very important to organize the beauty case making sure we have all the essential elements. Pupa has created a range of products called "ESSENTIALS"  to reveal which items you should absolutely have in your trousse or pochette and the first one of these posts is about face products (we had given you a preview with the survey on our Facebook page, in which foundation resulted to be the make-up base product you just can't do without). These are the "fantastic 3", i.e. what you need to guarantee the perfect base and the right glow to your face.
Luminys Touch is a concealer that captures light giving immediate luminosity and glow to the shaded areas of the face, it is perfect to correct dark circles around the eyes, mitigates fatigue signs and emphasizes light source spots: it is every woman's perfect ally.
Active Light, the name says it all, this foundation is a light activator that gives the skin a satin silky look, for a perfect complexion with no blemishes.
Face Primer, once you try it, it won't be easy to do without it. This product is created to smoothen and even out the skin to improve make-up hold.
Filed in
Make Up Secrets
Tagged with
foundation
,
foundation
,
primer
Posted by
PupaStaff
Posted on
15 luglio 2013